Item # 751F - Vintage 20's-30's Navajo Turquoise Whirling Logs Brooch/Pin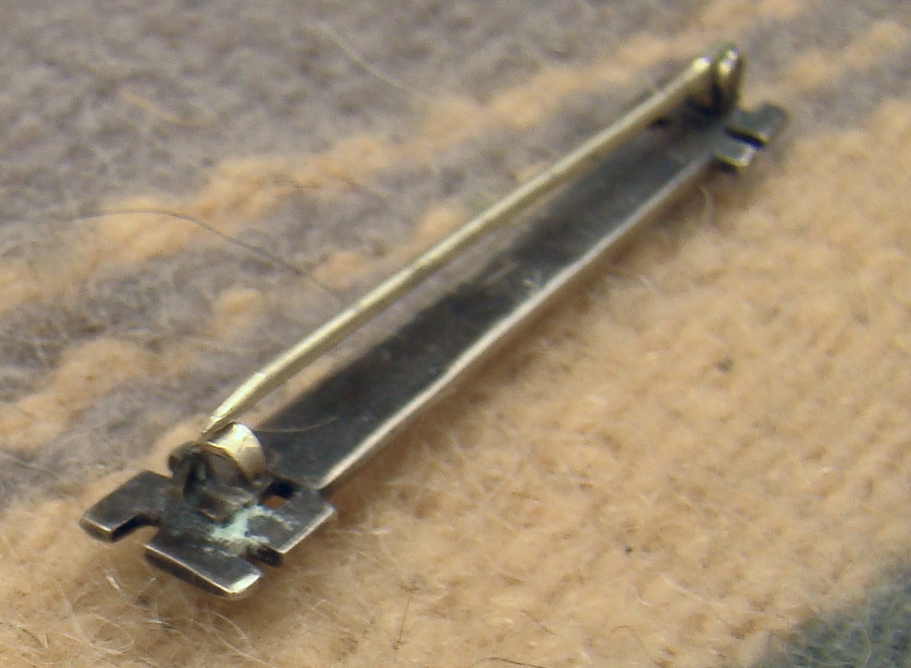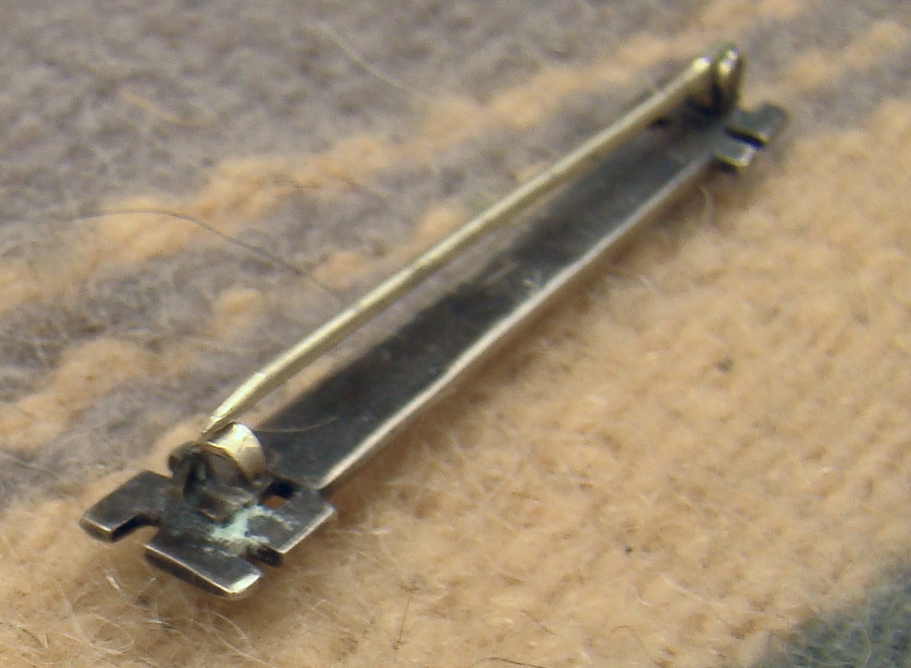 Item # 751F - Vintage 20's-30's Navajo Turquoise Whirling Logs Brooch/Pin
Unique vintage 20's-30's Navajo turquoise whirling logs brooch pin. The pin displays the symbol known as a whirling log in native lore with a small round natural turquoise stone set in the center of the symbols. Between the whirling logs are stamped arrows, sun/moon, and feather prayer fans. The silversmith finishes the pin/brooch by attaching a pin with a C-Clasp on the back. Most likely a tourist trade item of the time. After Hitler incorporated the symbol (swastika) as a representation of aryan Nazi supremacy, the tribes band the use of it whereas it no longer represented happiness, but hatefulness.
The brooch/pin measures 1 7/8" long by 1/4" tall and weighs 2.7 grams. Unsigned sterling silver. All jewelry, rugs, pottery, or other whirling log decorated items have become very much collectable items and bring in top dollar. $134.95
The swastika motif is found in some traditional

Native American

art and iconography prior to 1940. Historically, the design has been found in excavations of

Mississippian

-era sites in the

Ohio

and

Mississippi River

valleys, and on objects associated with the

Southeastern Ceremonial Complex (S.E.C.C.)

. It is also widely used by a number of

southwestern

tribes, most notably the

Navajo

, and

plains nations

such as the

Dakota

. Among various tribes, the swastika carries different meanings. To the

Hopi

it represents the wandering Hopi clan; to the Navajo it is one symbol for the whirling log (

tsil no'oli

), a sacred image representing a legend that is used in healing rituals.
One native legend of the symbol represents a story about a man cast out of his tribe. He leaves his tribe in a hollowed out log canoe. The whirling logs represent the log canoe the man was in being spun through whirlpools and rapids and ending on shore in front of the symbol surrounded by Yei figures. From the Yei he receives much knowledge which he takes back to share with his tribe and therefore is honored back as a member.
In 1940, in response to Hitler's regime, the Navajo, Papago, Apache and Hopi people signed a whirling log proclamation. It read, "Because the above ornament, which has been a symbol of friendship among our forefathers for many centuries, has been desecrated recently by another nation of peoples, therefore it is resolved that henceforth from this date on and forever more our tribes renounce the use of the emblem commonly known today as the swastika . . . on our blankets, baskets, art objects, sand paintings and clothing."
The

swastika

(also known as the

gammadion cross

,

cross cramponnée

, or

manji

) is a

symbol

that generally takes the form of an equilateral

cross

, with its four legs bent at 90 degrees (as a Chinese character: 卐 or 卍).

It is today considered to be a very sacred and auspicious symbol in

Hinduism

,

Buddhism

and

Jainism

.
The earliest known object with swastika-motifs is a bird from the

tusk

of a

mammoth

from the paleolithic settlement of

Mezine

,

Ukraine

dated to 10,000

BCE

. The swastika can be found throughout most of the world in early cultures. African, Armenian, Greek-Roman, East Asian, Asian, Europe, but it's most recognized use was incorporated with Nazi Germany. Due to the symbol being converted from a religious symbol to a sign of hate many countries ban it's use. (wikipedia,

http://www.collectorsguide.com/fa/fa086.shtml)