Item #831A- Vintage Zuni Multistone Inlay Knifewing Leaf Decorated Bracelet and Ring Sz 8 Set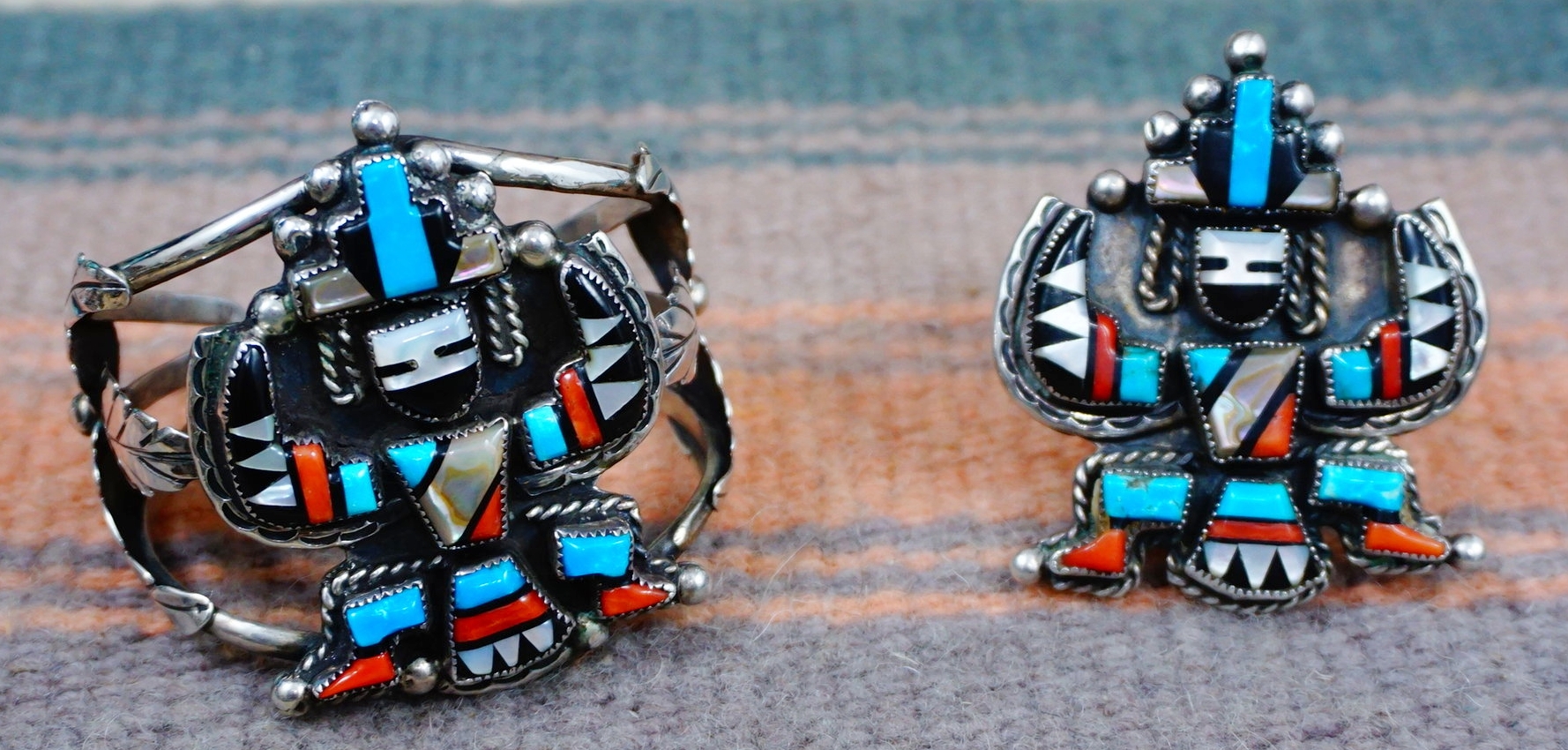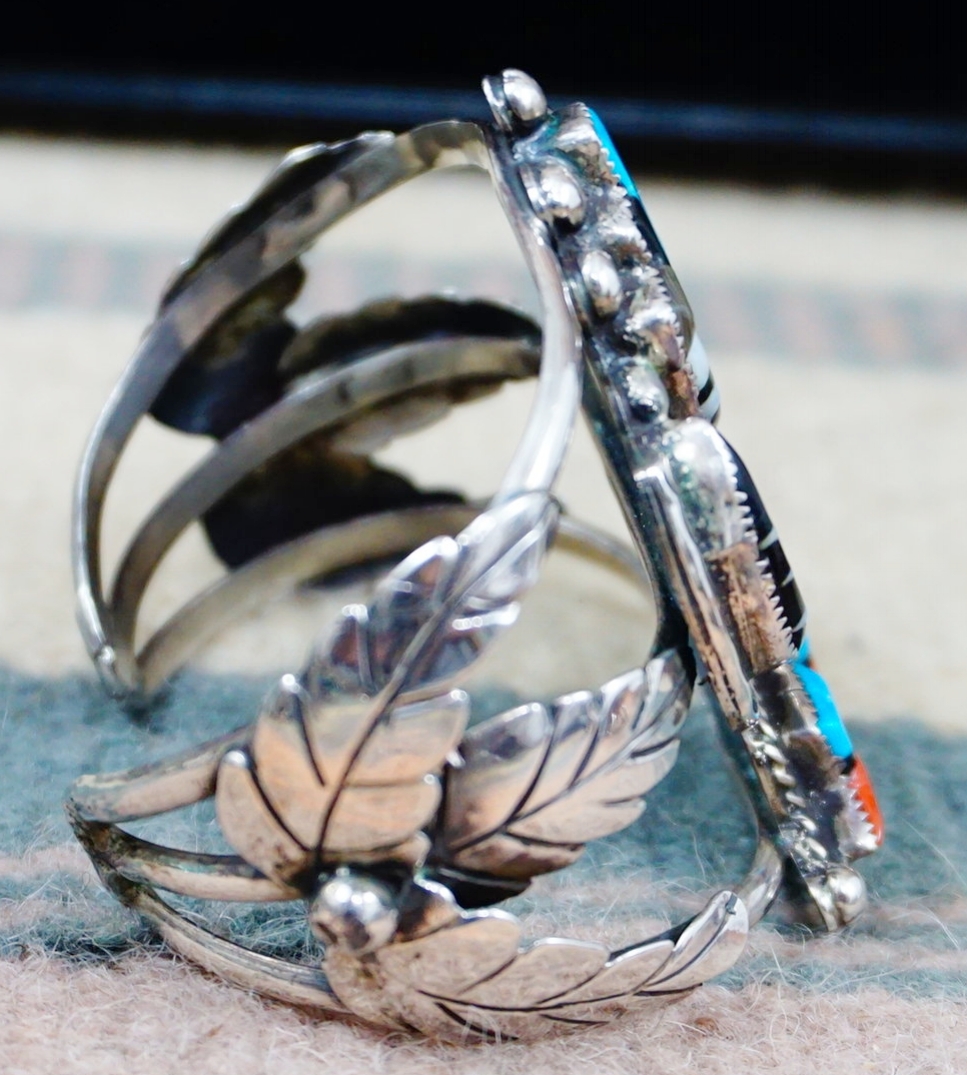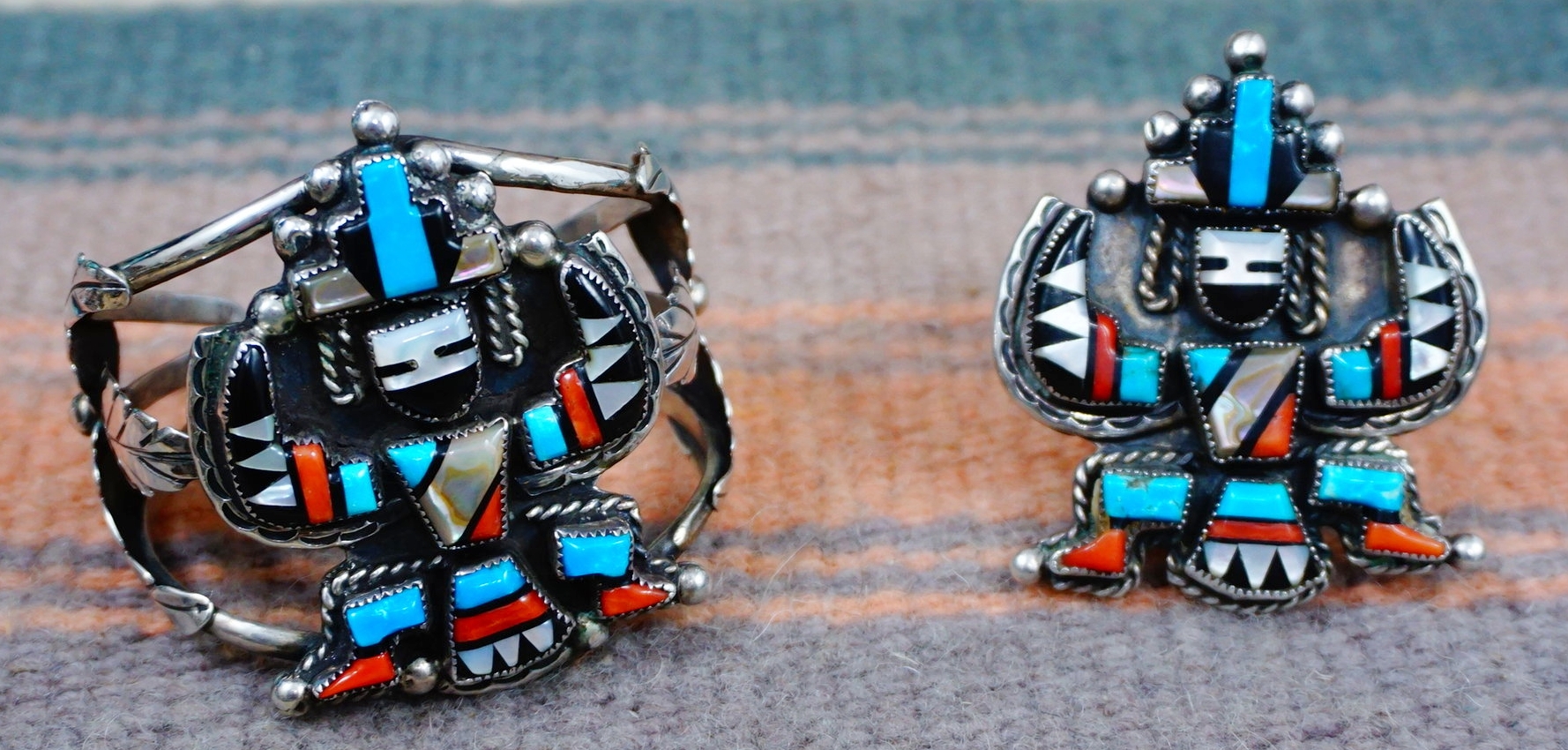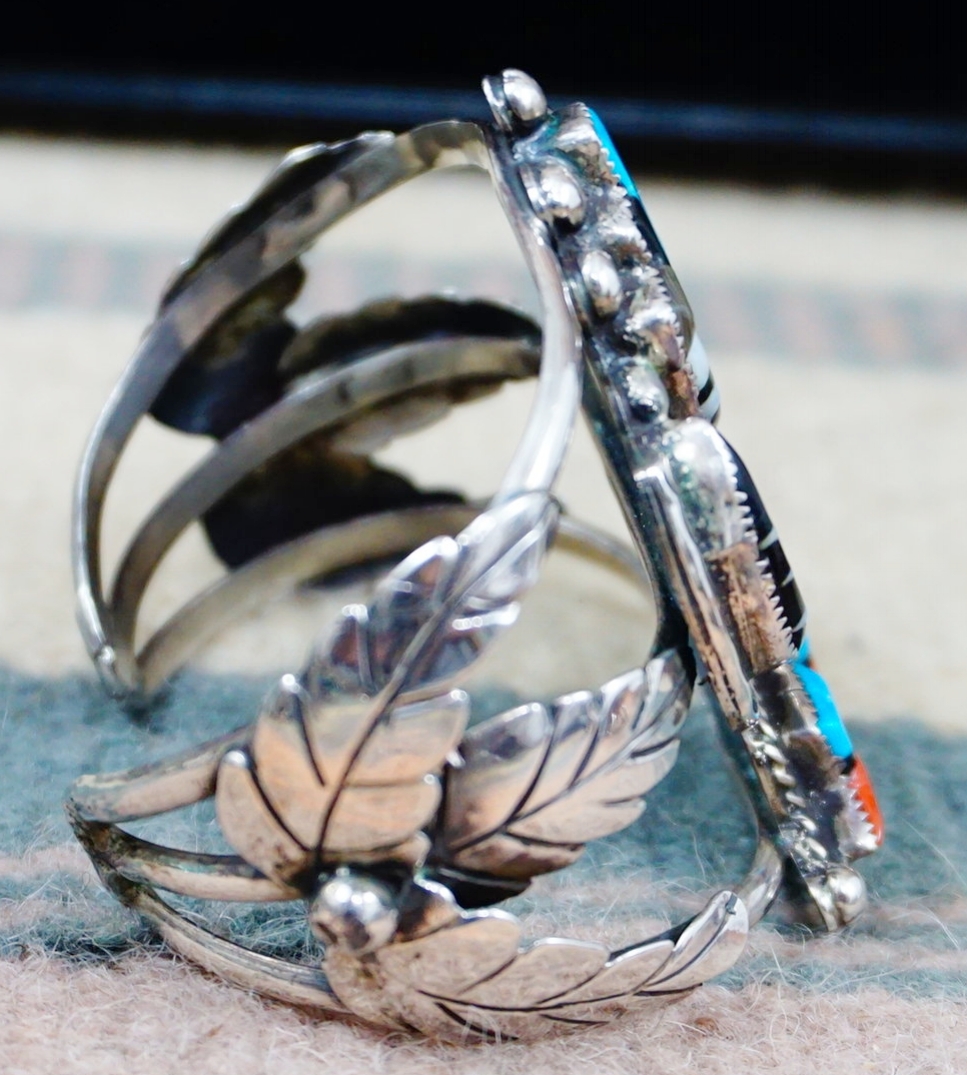 Item #831A- Vintage Zuni Multistone Inlay Knifewing Leaf Decorated Bracelet and Ring Sz 8 Set
Large vintage 50's-70's Zuni multi stone inlay Knifewing deity bracelet and ring combo. The artist has used turquoise, coral, mother of pearl, abalone, and black jet to create each Knifewing deity on both the bracelet and ring. Using eight (8) different sections of stone-to-stone inlay each set into saw tooth bezels. Only the chest and the crown or hat did the artist use abalone instead of mother of pearl which has allowed a definite and noticeable highlighted separation. On both pieces the Knifewing is identical to the other. Only difference is the ring has a twisted wire that runs from foot to foot following under the outline of the feet and tail feathers. The bracelet has twisted wire under each foot with a decorative stamped smooth wire running under the tail feathers and separated by two (2) large silver drops. The bracelet setting is mounted to a triple half round wire cuff which has been soldered together and rounded off at both ends. The artist also adds a cluster of three (3) silver leaves highlighted with a large silver drop on both sides of the cuff. The ring setting has two (2) half round silver wires attached which have been soldered together across the bottom of the band.
The bracelet Knifewing measures 2 1/4" by 1 3/4" across with the ring Knifewing measuring 2 1/8" by 1 13/16" across. The bracelet's measurements are 2 1/4" wide with an inner circumference of 4 15/16" plus a 1 1/8" opening. It will fit a 5 7/8" to 6" wrist as is and could be slightly adjusted another 1/8" to fit between a 6" to 6 1/8" wrist. We don't recommend further adjustment due to possibility of damaging the leaves and possible cuff wire breaking. The ring is a size 8 and weighs 26.6 grams. The bracelet weighs 52.4 grams (1.84 oz or 1.68 ozt) and is etched FC by the artist. Possibly Fred Cachini, but not certain. The Knifewing's have similar characteristics of those made by Cellicion family. Both pieces are guaranteed sterling silver. Beautiful, large, and bold vintage Zuni collector's bracelet and ring set! $799.95
The Knifewing and Rainbowman first descend most likely from the Zuni Shield of the Priesthood of the Bow Clan. Knifewing is a mythological being with wings covered in flint blades. He would sweep down from the heavens and carry off beautiful Zuni maidens. Knifewing was the original war god of Zuni. The half man half eagle deity, Knifewing, is believed to bestow wisdom, strength, and courage among his people.